Beauty should be shared (EN/LTF B)
BION - The tandem choice of professionals
Professional tandem pilots and recreational pilots who want to share beautiful moments with friends are inspired by the BION. Launch, fly, land - feel good: the BION offers all-round happiness for two with its high level of passive safety.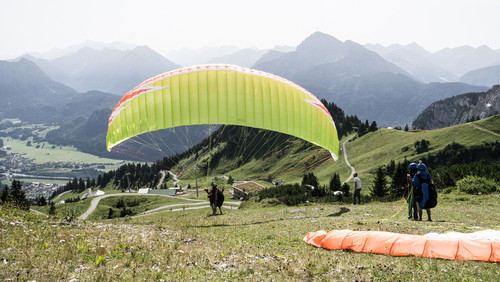 Easy to launch. Simple launch characteristics are some of the most important aspects of a tandem wing. During the development of the BION, this criteria was very important to us. The result is a wing which inflates continuously and manageably over the pilot and passenger. The take off speed is pleasantly low.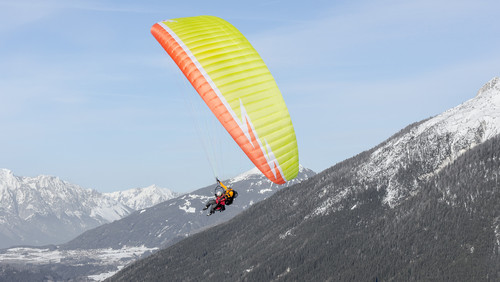 Balanced in the air. Unlike solo wings, tandem gliders have to cope with a very large weight-range. Whether flown at the top or bottom of the weight-range, the glider has to remain easy to steer and must not develop high brake pressure. The BION offers the full package of pleasant handling across the entire weight-range as well as maintaining low break pressure.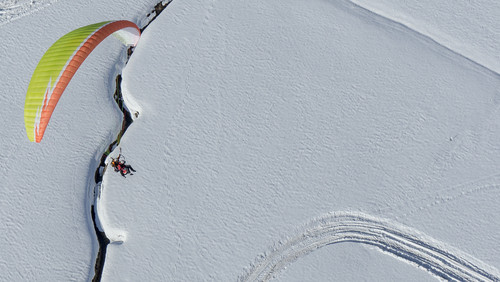 No surprises. Anyone flying tandem not only has responsibility for themselves - they have to offer their passenger a safe experience too. This was our main concern when developing the BION. Thanks to its low aspect ratio its extreme flight behaviour is very manageable. The BION offers a very high degree of passive safety
The BION experience (Please click at the small pictures to enlarge)
Technical data
33

37

Number of cells

-

43

43

Projected span

m

10,67

11,32

Projected area

m²

32,4

36,44

Projected aspect ratio

-

3,52

3,52

Flat span

m

14,18

15,05

Flat area

m²

39,1

44

Flat aspect ratio

-

5,14

5,14

Line diameter

mm

1,1 / 2,15 / 3,15

Line length

m

7,67

8,14

Total line length

m

426

452

Max. chord

m

3,47

3,66

Min. chord

m

0,71

0,75

Weight

kg

7,5

8,5

Recommended take off weight

kg

90-200

115-230

Certification (EN/LTF)

-

B

B
Materials
| | |
| --- | --- |
| | Porcher Sport 9092 E75A 45 g/m² |
| Top surface: | DOKDO 30 DMF WR 41 g/m² |
| Bottom surface: | DOKDO 30 DMF WR 41 g/m² |
| Profile ribs (with line suspension point): | DOKDO 30 DFM RIB 41 g/m² |
| Profile ribs (without line suspension point): | DOKDO 30 DFM WR 41 g/m² |
| Main lines: | Edelrid A-6843-340 (Armaid); Edelrid A-6843-240 (Armaid) |
| Gallery lines: | Cousine 85 (Dyneema) |
| Brake lines: | Liros PPSL 120 (Dyneema); Edelird A-7850-360 (Dyneema) |
| Risers: | Guth & Wolf, 25 mm |
Colours
| | |
| --- | --- |
| Green Fizz | Orange Flux |
Scope of delivery
| | |
| --- | --- |
| NOVA Rucksack.NOVA Rucksack.The wing and harness will determine the size of the rucksack. We are offering our high quality and comfortable to carry models in size S (110 litres), M (130 litres) and L (150 litres | Repair kit.Everyone hopes it will never happen: a hole or tear in the paraglider. We have included a minor damage repair kit in the right colour for such an eventuality. |
| NOVA windsock. So you know where the wind is coming from, we have added a NOVA windsock. With a length of approximately 80cm it is large enough for a take-off site | Manual.We have enclosed a very detailed manual which contains everything you need to know about your paraglider. Please study it before flying your wing for the first time. |
Motor (Please click at the small pictures to enlarge)
According to the DGAC (France), the BION has been certified for powered flight. It is suitable for both free flying and paramotoring. You can find the certification documents in the Downloads section.

 
Downloads
33
NOVA Hong Kong Distributor 香港代理: Kenneth, Tel: +852 9203 1889, email: ama8801@yahoo.com.hk