The benchmark of cross-country wings (EN/LTF B)
MENTOR 5 – Flying beyond boundaries
More performance, precise handling and a reassuring feeling in the air: the MENTOR 5 is the logical progression of the master of its class. Its high performance is more accessible and usable for progressing pilots. The MENTOR 5 exceeds boundaries.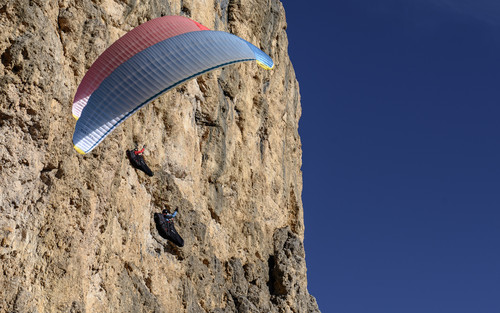 The Benchmark. For many years the MENTOR has been setting the standard for XC-intermediate wings. It combines impressive performance with a high degree of passive safety and it encourages you to exceed your boundaries. Using strength analysis optimisation and flow simulation, we have succeeded in elevating the MENTOR 5 to a new performance level.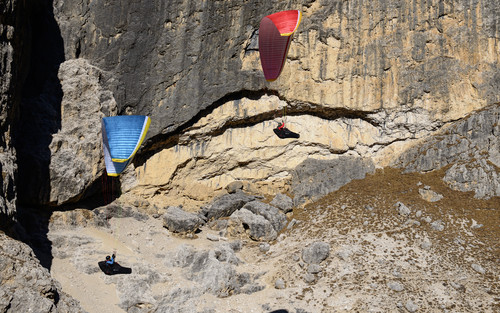 Relaxed Sportiness. The MENTOR 5 shows a marked performance increase on its predecessor. A slightly reduced trim speed leads to reduced sink and comfortable brake pressure, while the top speed remains consistently high. The handling distinguishes itself with its agility and precision. This permits the wing to simply centre in the thermal and take every climb.
Simply intuitive. Pilots should concentrate on what gives them pleasure: the flying. A clever mixture of materials has made the wing lighter, more manageable and more durable. At the most important points, the MENTOR 5 has been fitted with sheathed lines. As a consequence, the lines basically sort themselves. Launching is simple. And in flight, the MENTOR 5 helps you to find the right line.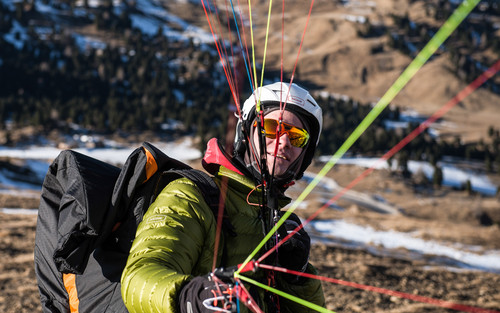 Requirements The MENTOR 5 is a paraglider with impressive performance which has - in the hands of an experienced pilot - a very manageable handling and extreme flight behaviour. Flying the MENTOR 5 does require a degree of skill. Although certified as EN B, the MENTOR 5 is not suitable for beginners and occasional pilots.
For queries about the suitability of the wing for you, your NOVA dealer will be happy to assist!
The MENTOR experience (Please click at the small pictures to enlarge)
In Flight
Technical data
XXS

XS

S

M

L

Number of cells

-

55

55

55

55

55

Projected span

m

8,53

8,97

9,40

9,8

10,19

Projected area

m²

18,36

20,33

22,30

24,26

26,21

Projected aspect ratio

-

3,95

Flat span

m

10,80

11,36

11,89

12,41

12,90

Flat area

m²

21,48

23,78

26,09

28,39

30,68

Flat aspect ratio

-

5,43

Line diameter

mm

0,6 / 0,7 / 0,8 / 1,0/1,3

Line length

m

6,24

6,56

6,87

7,17

7,45

Total line length

m

215

226

237

248

258

Max. chord

m

2,48

2,59

2,71

2,83

2,94

Min. chord

m

0,60

0,63

0,66

0,69

0,72

Weight

kg

4,7

5,0

5,3

5,6

5,9

Recommended take off weight

kg

60-80

70-90

80-100

90-110

100-130

Certification (EN/LTF) (t.b.d)

-

B

B

B

B

B
Materials
| | |
| --- | --- |
| | DOKDO 30 DMF WR, 41 g/m² |
| Top surface: | DOKDO 20 DMF WR, 35 g/m² |
| Bottom surface: | DOKDO 20 DMF WR, 35 g/m² |
| Profile ribs (with line suspension point): | Porcher Sport 9017 E29A Fabric |
| Profile ribs (without line suspension point): | DOKDO 30 DMF WR, 41 g/m² |
| Main lines: | Liros PPSL 160, Cousin 85 |
| Gallery lines: | Edelrid A8000-U series |
| Brake lines: | Edelrid A8000-U series |
| Risers: | Cousin Trestec Webbing PER/Armaid CSAR Black, 12 mm |
Colours
Scope of delivery
| | |
| --- | --- |
| NOVA Rucksack.NOVA Rucksack.The wing and harness will determine the size of the rucksack. We are offering our high quality and comfortable to carry models in size S (110 litres), M (130 litres) and L (150 litres | Repair kit.Everyone hopes it will never happen: a hole or tear in the paraglider. We have included a minor damage repair kit in the right colour for such an eventuality. |
| NOVA windsock. So you know where the wind is coming from, we have added a NOVA windsock. With a length of approximately 80cm it is large enough for a take-off site | Manual.We have enclosed a very detailed manual which contains everything you need to know about your paraglider. Please study it before flying your wing for the first time. |
Downloads
XXS
| | |
| --- | --- |
| | Manual |
| | Line plan |
| | Certification |
XS
| | |
| --- | --- |
| | Manual |
| | Line plan |
| | Certification |
S
| | |
| --- | --- |
| | Manual |
| | Line plan |
| | Certification |
M
| | |
| --- | --- |
| | Manual |
| | Line plan |
| | Certification |
L
| | |
| --- | --- |
| | Manual |
| | Line plan |
| | Certification |
NOVA Hong Kong Distributor 香港代理: Kenneth, Tel: +852 9203 1889, email: ama8801@yahoo.com.hk