The paramotor wing for recreational pilots (DULV)
SPEEDMAX – Powered Performance
High performance, very manageable extreme flight behaviour and good all-round characteristics: with the SPEEDMAX, NOVA has produced a paramotor wing which is easy to handle and comfortable in the air. A high degree of passive safety was very important to us.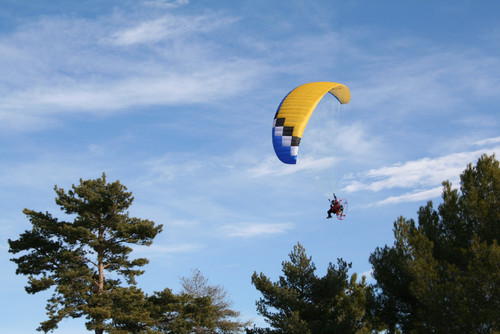 Balanced handling. Good paramotor wings distinguish themselves by high roll stability and simultaneously by a pleasantly agile handling. Combining these two parameters ­ which contradict each other ­ into a complete package is a big challenge when developing a paramotor wing. With the SPEEDMAX we successfully achieved it.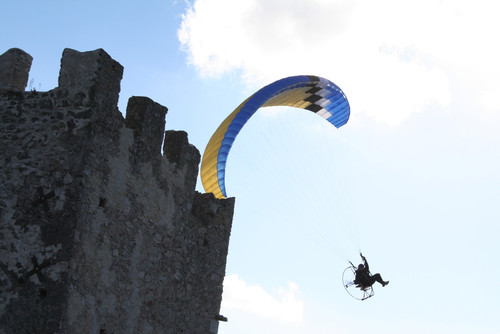 High passive safety. The SPEEDMAX offers a very high degree of passive safety. It provides you with a safe feeling ­ even when the air is a little restless. Like all NOVA wings, the SPEEDMAX has been extensively tested in all possible collapse scenarios.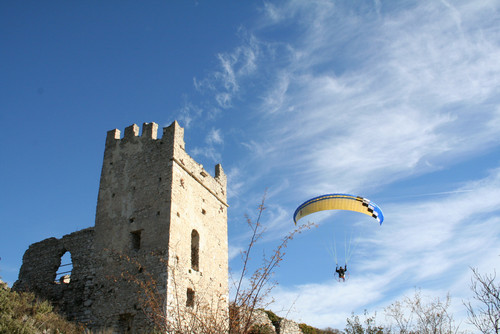 A timeless classic. A timeless classic. The SPEEDMAX is a perennial favourite in the NOVA range. Because of its all-round good characteristics it remains a popular model. SPEEDMAX pilots value the wing's sophisticated handling, combined with its high passive safety.
Target group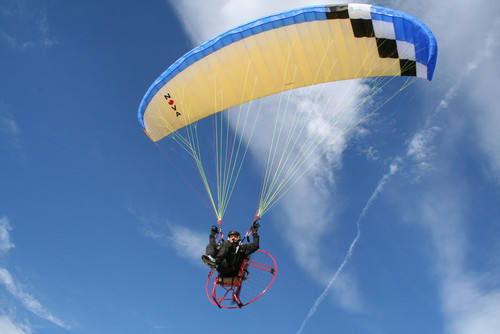 The SPEEDMAX is a paramotor wing which distinguishes itself by a high degree of simplicity. The target group are recreational pilots who value a great deal of passive safety. Leisure pilots who fly regularly in particular will enjoy the SPEEDMAX.
The SPEEDMAX experience (Please click at the small pictures to enlarge)
Technical data
19

21

23

Number of cells

-

31

31

31

Projected span

m

8,33

8,71

9,16

Projected area

m²

19,23

21,04

23,33

Projected aspect ratio

-

3,61

3,61

3,6

Flat span

m

10,76

11,26

11,87

Flat area

m²

22,6

24,73

27,52

Flat aspect ratio

-

5,12

5,12

5,12

Line diameter

mm

1,1 / 1,8 / 2,2

Line length

m

6,7

7

7,2

Total line length

m

323

338

352

Max. chord

m

2,61

2,73

2,88

Min. chord

m

0,55

0,58

0,61

Weight

kg

5,3

5,7

6,1

Recommended take off weight

kg

70-150

80-160

85-170

Recommended take off weight (motor)

kg

70-150

80-160

85-170

Certification

DULV

DULV

DULV
Materials
| | |
| --- | --- |
| | Gelvenor LCN0066 OL KS 52 g/m² |
| Top surface: | Gelvenor LCN0066 OL KS 52 g/m² |
| Bottom surface: | NCV D0911 40 g/m² |
| Profile ribs (with line suspension point): | NCV 9092 E29A 48 g/m² |
| Profile ribs (without line suspension point): | NCV 2420 X15A Trilam 165 g/m² |
| Main lines: | Liros TSL 280 (Armaid); Liros TSL 380 (Armaid) |
| Gallery lines: | Liros PPSL 120 (Dyneema) |
| Brake lines: | Edelrid 7860-360 (Dyneema); Liros DSL 70 (Dyneema) |
| Risers: | Güth & Wolf Gurtband 25 mm |
Colours
Scope of delivery
| | |
| --- | --- |
| NOVA Rucksack.NOVA Rucksack.The wing and harness will determine the size of the rucksack. We are offering our high quality and comfortable to carry models in size S (110 litres), M (130 litres) and L (150 litres | Repair kit.Everyone hopes it will never happen: a hole or tear in the paraglider. We have included a minor damage repair kit in the right colour for such an eventuality. |
| NOVA windsock. So you know where the wind is coming from, we have added a NOVA windsock. With a length of approximately 80cm it is large enough for a take-off site | |
Downloads
19
NOVA Hong Kong Distributor 香港代理: Kenneth, Tel: +852 9203 1889, email: ama8801@yahoo.com.hk